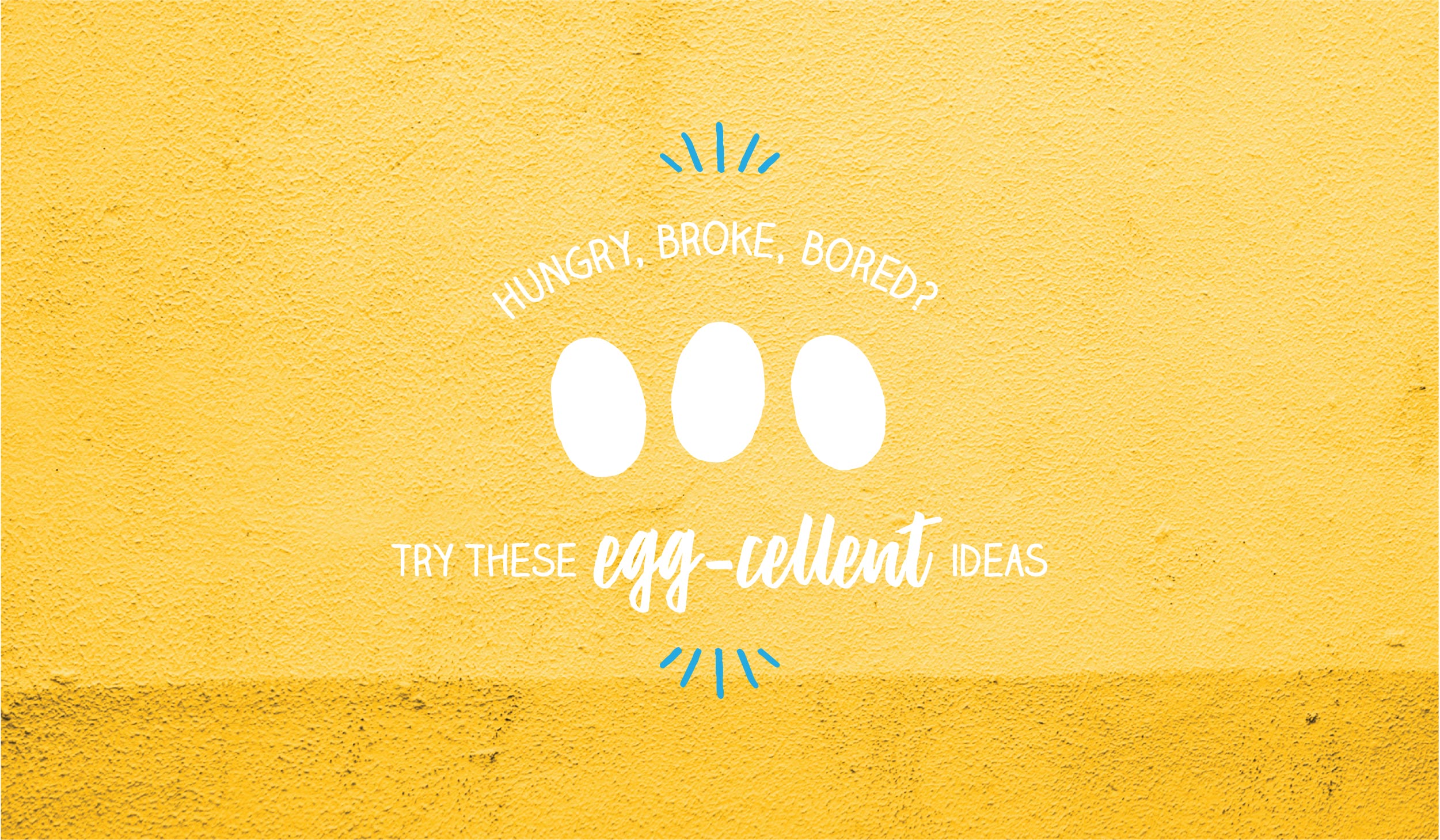 Remember when two-minute noodles filled almost every void in your life?
Yeah, those were the days, but now your relationship with the salty noodle has cooled.
You're also worried malnutrition might be setting in.
Our gift to you: a year's worth of stuff you can do with eggs – one of the world's cheapest, handiest, tastiest, most nutritious and versatile foodstuffs. You're welcome!
Eggs are packed with vitamins (A, B, D and E) and minerals (iodine, phosphorous, selenium, zinc and iron), and they're a 'complete' protein, which means they have all the essential amino acids we need.
We're going to meet your nutritional needs first, starting with our favourites, and then move onto some other weird stuff.
34 eggy ideas:
Scrambled eggs. The author of this post could stop right here and be happy with scrambled eggs 365 days of the year, just quietly. Hands down the easiest egg-based meal on the planet.
Poached eggs. Tricky to master, but oh so good when you do. A tiny splash of vinegar in a whirlpool of water is your friend here.
Dippy eggs and soldiers (aka Googy Eggs). Swoon! Boil these babies for 3 mins and dip those toasty soldiers in. Add cheese if you're feel'n fancy.
Fried eggs. The classic. Go crazy and mix it up with sunny side over one week, sunny side up the next.
Hardboiled eggs. Eat 'em hot or cold. On their own or in a salad. Boil up a batch and keep them in the fridge for up to a week.
Baked eggs. Noice, different, unusual.
Scotch eggs. Actually, these look pretty disgusting. Skip these.
Devilled eggs. Just add mayo. Genius. Thanks, ancient Italian mamas.
Egg & mayo sambo. Better put mayo on the shopping list, unless you want to make it yourself!
Make it yourself Mayonnaise. Go on. So creamy, so flavourful.
Eggs benedict. We know, we know – bit posh, but now you know how to make your own mayo, step it up a notch with your own Hollandaise and some ham, man.
Breakfast burrito. Add bacon, a hashbrown, some sauce, and it's a wrap.
Egg roll wrap. Just like a burrito, but for keto/paleo converts.
Bacon & egg roll. The breakfast of champions. And before you ask, the answer is BBQ sauce.
Sausage & egg muffin. Nooo, not from Maccas. From your own capable hands.
Omelette. Throw in leftover baked veggies and BBQ chook, and you've got yourself a MEAL.
Quiche. If you can make an omelette, you can make a quiche. Grab some frozen shortcrust pastry sheets and Just do it!
Mini-quiches. A lunch or dinner fav. You'll need puff pastry and a muffin tin.
Frittata. If you can't be bothered with pastry… skip the Quiche and go for Frittata instead. So good with grated zucchini, carrot, onion, cheese, and corn.
Fritters. Bulk the frittata ingredients up with potatoes. Super easy, super quick, superfood.
Nasi goreng. Bang an egg on top, and you're done!
Fried rice. Just not the same without egg.
French toast. Dessert for breakfast? Yes please.
Pancakes. Nothing beats a batch of pancakes, made from scratch. Say NO to Shake n' Bake, kids.
Crepes. Like pancakes but thinner. Perfect for breakfast, lunch or dinner.
Custard. Not just a Christmas treat. Especially yum with sliced banana.
Popovers. While we're getting all American, why not? These are light, fluffy pastries FYI.
Waffles. Naughty or Nice. These can be frozen too. Winning!
Muffins. Sweet or savoury. Why not have both?
Try breaking an egg in the palm of one hand. You won't be able to!
Visit the Egg Boy mural in Chippendale – it's on the side of the Lord Gladstone pub.
See what kind of egg you are with this BuzzFeed Quiz. Eggs bene all the way!
Try the Tiktok egg challenge. Did your dog break the egg?
Give your puppy or kitty kibble a healthy boost with some cooked egg whites.